"Hello, friend."
K'thriss Drow'b is a Drow Warlock currently employed as the Hoardsperson for the Acquisitions Incorporated "C" Team operating out of the Dessarin Valley.
Before they were first hired by Acquisitions Incorporated, K'thriss was approached by Force Grey to join their team.[1]
K'thriss has tattoos of some variety.[2]
Acquisitions Incorporated Career
[
edit
|
edit source
]
K'thriss was first hired by Acquisitions Incorporated in Waterdeep. Prior to being hired, they spent some time spying on Omin Dran, Jim Darkmagic, and Môrgæn while they stayed at The Yawning Portal.[3]
After being officially hired, their first task was to provide magical assistance to Omin Dran. In the course of casting the spell "Contact Outer Plane" to find information on where Portentia Dran's soul had gone, they went insane and were no longer able to take anything seriously.[4] After assisting them with finding the Orb of the All-Father, K'thriss was dropped off in the town of Red Larch by the Acquisitions Incorporated airship.[5]
K'thriss regained consciousness in a dirty alley next to the Dran & Courtier Inn in Red Larch. They had a note written in their own hand attached to them, a welt on their forehead, and their arcane focus was hot in their hand. They were also in possession of a golden acorn.
K'thriss worships a deity known as the Ur who they believe to be a supreme entity who operates above and beyond other gods. They wear a symbol of the Ur around their neck on a chunk of black altar rock, which also serves as their arcane focus. They found this altar somewhere in the Underdark, and were fascinated by it due to their inability to read the runes on the altar.[6] They interact with this holy symbol each morning.[7] However, they soon discovered that their pact had been taken over by a being called the Sanguilith.
As of season three, they have had the spell Reincarnation cast on them, and were born again as a new Drow. This new body is the opposite sex of K'thriss' previous body and since the change they have started going by gender neutral pronouns.
K'thriss regularly interacts with a tentacled shadow. They are also a telepath, and regularly use this ability to communicate with their fellow party members.[8]
K'thriss describes themselves as "a seeker of knowledge" and "a conduit for a dark entity" who they can make requests of.[9] They are a curious person who is interested in things that are seen as gross or unusual, such as extreme injuries.[10] They are also unafraid to die, sometimes expressing their active wish to die to those around them.[11]
K'thriss is a submissive person. They especially defer to women, due to their upbringing in a matriarchal society as a person Designated Male at Birth.
They don't like to eat breakfast. [12]
Elder Brian
Ligotti (Tentacle Familiar)
Acquisitions Incorporated (1 Episode)
"PAX East 2017" (S1 Ep16)
Acquisitions Incorporated: The "C" Team (1 Season)
K'thriss Drow'b is played by Kris Straub.
His very first roll while playing with Acquisitions Incorporated was a natural 1 while attempting to contact an extraplanar entity.[13] This promptly caused him to go insane. K'thriss was originally played as a level 9 character, but was brought down to level 3 for The "C" Team.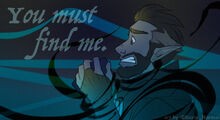 Community content is available under
CC-BY-SA
unless otherwise noted.